Products
Our product portfolio is the result of our extensive experience of the various sector, including long-term relationships with customers. It is based on a strong commitment to research and development, as well as industry-wide standards, and addresses both customers' business and technology demand.
Order Manager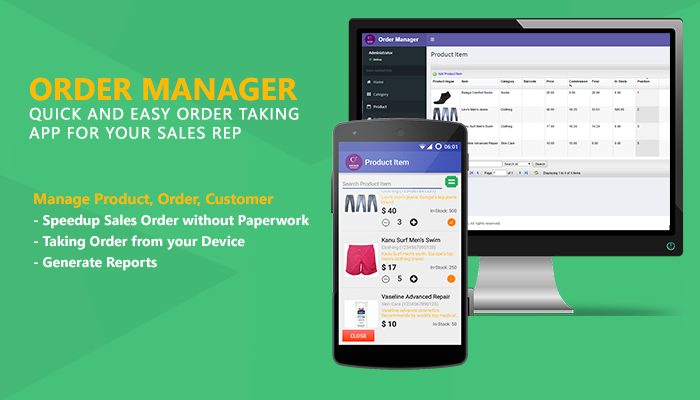 Code Finix Order Manager allows you to take sales order on any smartphone or tablet. Integrated offline order taking along with online synchronize app that allows your sales reps to showcasing catalogs and take orders in real-time. Reduce cost of massive paperwork. Time saving app that makes your customer happy.
Try It Now
Features
Fully Customizable, Mobile Sales Order App
Real-Time Inventory Management
Customer Management
Offline Order Taking along with Online Synchronization
Barcode Scanning
Order Notification to Customer
Web based Store Administration
Reporting
&nbsp
Point of Sale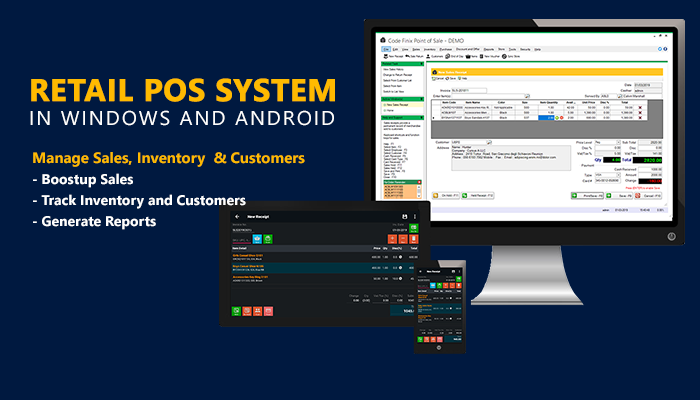 Code Finix Point of Sale helps retailers go far beyond the cash register with an easy-to-use, affordable, integrated software and hardware system. It handles routine tasks so retailers can pay more attention to running their business. The solution can track inventory, sales, customer and vendor information, giving retailers more time to think about what to stock, how to price merchandise, when to reorder, and how to serve their customers better.
Try It Now
Features
Fully-Functioning Multi-Tender POS
Real-Time Inventory Management
Manage Customer, Vendor and Employee
Employee Rewards, Discount Coupons, Quantity Based Discounts/Items
Advance Loyalty/Reward Programs
Custom Item Data and Item Composition
Track Inventory Transfers between Stores
Customize Price Tags and Receipts
Auto Sync Store Data
Advanced Reporting
Import/Export
and many more
Additional Features for Restaurant POS
Customer Order
Tables Management
Kitchen Display
Main Report
PO Journal with Item Detail
Inventory Stock Status By Item
Sales Journal with Item Detail
Sales Summery by Receipt
Store Wise Sales Performance
End of Day
Kitchen Order
and more than 30 reports
&nbsp
Label Designer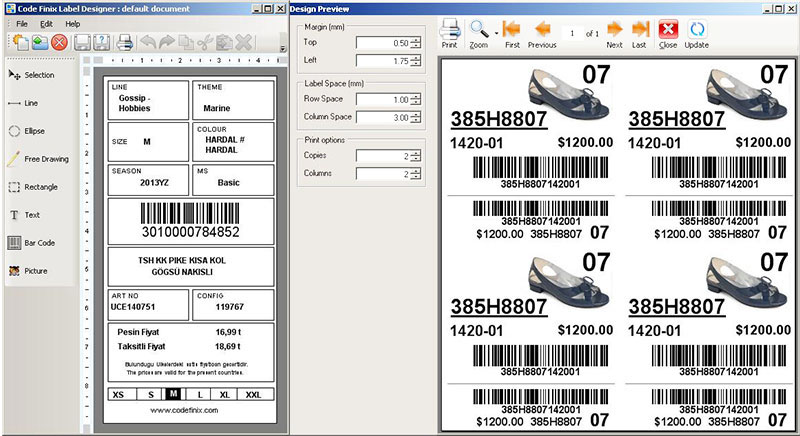 Print and design your own CD Labels, address labels, mailing labels, DVD labels, envelopes and more!! Office solution software for your labeling and printing needs. Design and start creating your own custom label formats. Built in Database to store personal information and/or address labeling for mail merge. Link to Excel and any external database through ADO and ODBC.
Try It Now
Features
Templates
Import Images
Photo Editing Tools
Multiple Shapes
1D/2D Barcode Symbols
Design Tools
Resize Labels
Shrink to Fit
Color Blends
Font Choices
Basic Editing (crop, contrast, ect.)
Background Selection
&nbsp
Barcode Generator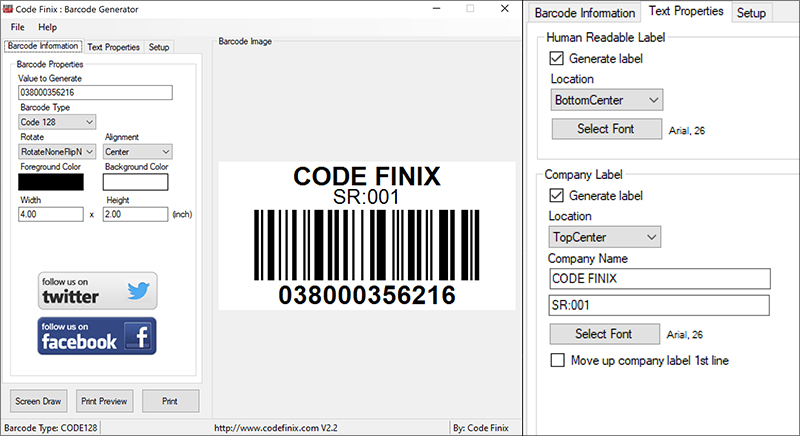 Code Finix Barcode Generator is affordable, easy-to-use software designed to create professional and industrial standard bar code labels with support to major barcode font standards in easiest way. Software allows user to generate customized labels (make your own barcode) with advance barcode designing view facility. Program supports major barcode font standards that are easily readable and printable by commonly used barcode scanners and printers. Program also support multiple columns and database for printing barcode.
Try It Now
Features
Linear
2D
Database Support
Multi Column
Design Tools
Align Objects Tool
Rotate
Adjusts to Text Size
Color
&nbsp
Custom T-Shirt Design Tools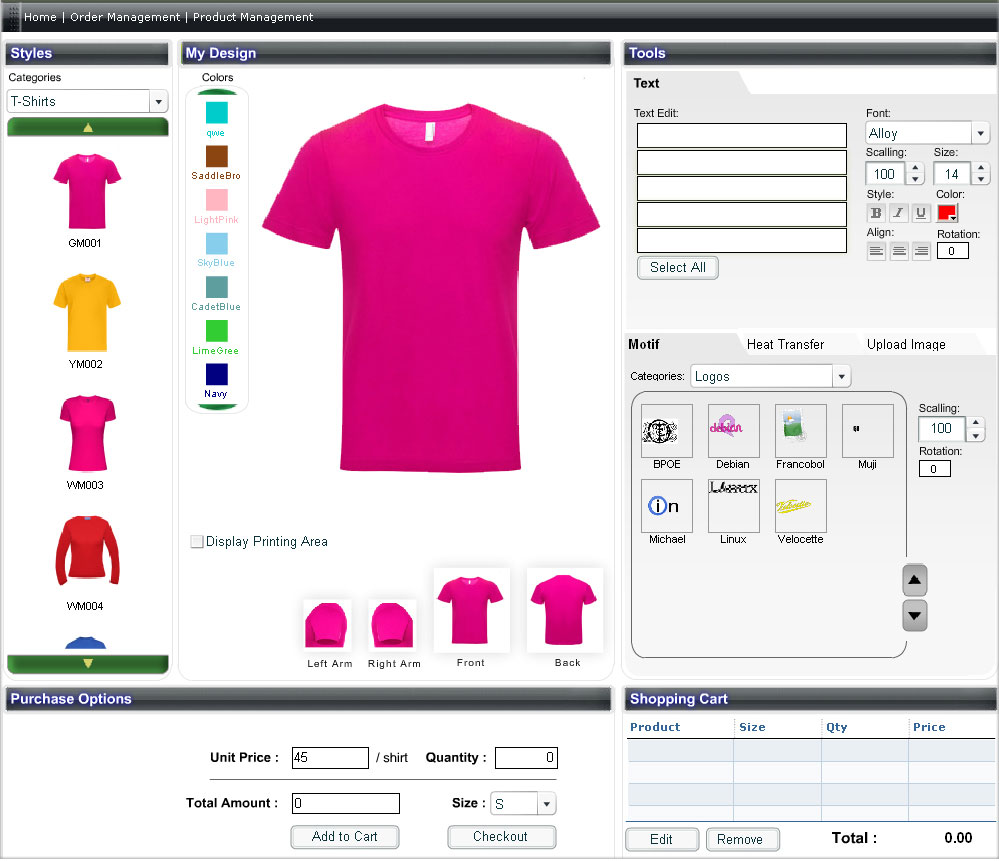 Online T-Shirt designing and printing tools for e-commerce store. Flash based rich design tools. Variety of design options and an Admin panel. Contact us for your e-commerce store.
Try It Now
Design Features
Shipping Cart
Images From Disk
Design Location: Front, Back, Left, Right
Images From Clip Art
Change Size of Image
Add Text
Change Font
Text Color, Size, Alignment, Spacing
Rotate Object
Adjust Placement of Image
Save Designs
Image Alignment
T-Shirts Size, Quantity, Price
Apparel Options
Short Sleeve
Long Sleeve
Women's Shirts
Sweats/Hoodies